Rereading Books Good for Mental Health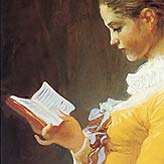 Reading a book more than once can offer mental health benefits, according to a study published in the
Journal of Consumer Research
.
The
Daily Mail
reported that the study, based upon interviews with readers in the U.S. and New Zealand, found that the "first time people read--or watch--through, they are focused on events and stories. The second time through, the repeated experience reignites the emotions caused by the book or film, and allows people to savor those emotions at leisure. The 'second run' can offer profound emotional benefits."
"By doing it again, people get more out of it," said Cristel Antonia Russell of American University. "Even though people are already familiar with the stories or the places, re-consuming brings new or renewed appreciation of both the object of consumption and their self."
Read the Daily Mail article here:
http://www.dailymail.co.uk/sciencetech/article-2101516/Reading-book-really-better-second-time-round--reading-offer-mental-health-benefits.html
And if you want to experience this effect for yourself, you could do worse than rereading
The Great Gatsby
and then coming to our
Blast From the Past Reading Series
on April 18th, when Allan Gurganus will lead a "Great" discussion of Jay Gatsby, Daisy Buchanan, and Nick Carraway.